Magic Sofa Cover Stretchable - Plain Color (pillow is not including)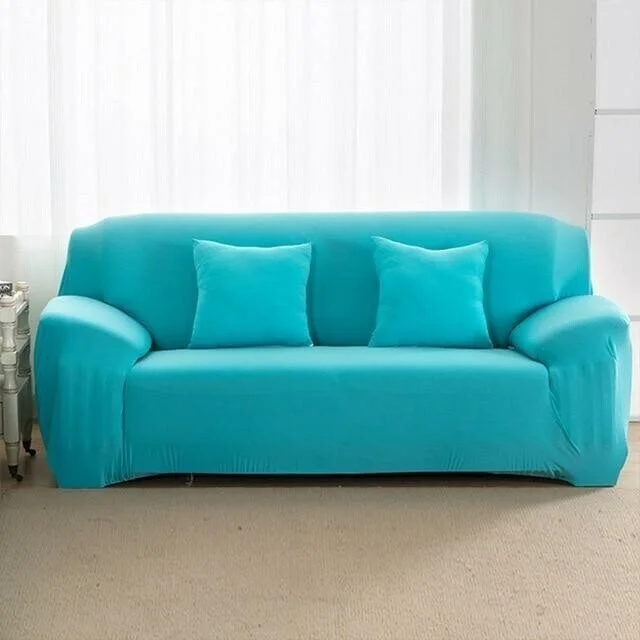 Magic Sofa Cover Stretchable - Plain Color (pillow is not including)
If you choose the seater size, it only contains a sofa cover, the pillowcase is not included!
UPDATE: We are continually trying to ship orders out as soon as possible. Shipping is back on track now. We have restocked all designs.

SALE: 50% Price Slash For 24 hours. Grab Yours Today!

Repurpose the furniture that you already own and love!
Do you find yourself constantly looking for ways to redecorate and liven up your home? Need a quick, easy, and affordable way to make an old couch look brand new or a new couch stay new? It's not always easy when TV and magazines are covered by amazing interior spreads showing an array of expensive furniture options! We understand that it doesn't make sense to buy a new couch every few years when you see one you like more!
We've found the solution!
MagicSofaCover™ are stretchy and durable, ensuring both excellent function and comfort! Protect your new sofa from daily wear and tear, spills, and stains, or give your favorite old sofa a new, rejuvenated look instead of buying a completely new one!
SLIP-RESISTANT: The high elastic couch covers for the sofa are flexible, soft, and slip resistant for long-term comfort. No straps are needed to secure this sofa cover in a place as it stays firmly where you want it without moving or shifting!
SOFA PROTECTOR: A must-have for homes with children and pets, this couch cover protects your furniture from dust, stains, wear, and tear while offering a fresh look. (No matter how your sofa looks or feels now, with our slipcover it will seem like a new sofa!)
HIGH-QUALITY FABRIC: Made of high-quality fabric including 85% Polyester and 15% Spandex Jacquard Fabric with small checks, this slipcover has a smooth soft feel and is easy to care for. Instantly improve the look of any sofa in your home with these stretch couch covers!
DURABLE AND AFFORDABLE: SofaSpanx prides itself on affordable elegance that enhances the décor of your home while maintaining quality standards. The spandex sofa cover offers a combination of top materials and the latest design without sacrificing comfort and durability
Please make sure you choose the right size before ordering
The distance between the two ends of the sofa is 90-140CM. The suitable size is: single position 90-140CM
The distance between the two ends of the sofa is 140-185CM. The suitable size is: double position 145-185CM
The distance between the ends of the sofa is 190-230CM. The suitable size is: three-person 190-230CM
The distance between the two ends of the sofa is 235-300CM. The suitable size is: four-person 235-300CM
How to put it on?
Images depict a typical 2-seater sofa.
The size differs with the variant chosen.
General Sizes Rules
No Manual Measurements are Needed. Applies to 99% of Sofas and Couches. Applicable to any sofa shape, with or without an arm.
1 seater Sofa: 90-140cm/35.43-55.12in
2 seat Sofa: 145-185cm/57.09-72.83in
3-seat Sofa: 190-230cm/74.80-90.55in
4 seat Sofa: 235-300cm/92.52-118.11in
Pillow Cover is One-Size and is stretchable to all pillow sizes.
Shipping Times :

Free Standard Shipping: Delivery within 05 - 10 Business Days
Expedited Priority Shipping: Delivery within 03 - 08 Business Days
Specifications:
CLICK 'ADD TO CART' TO BUY NOW!
100% MONEY-BACK GUARANTEE!
30-DAY RISK-FREE RETURNS!