🔥HOT SALE -Key of C Two Octave Range Pocket Travel Saxphone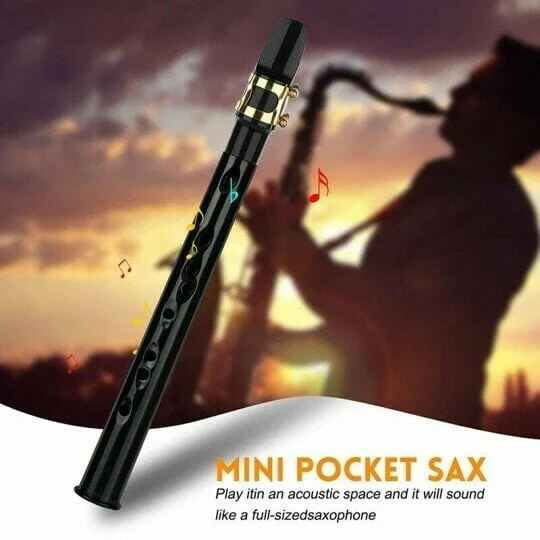 🔥HOT SALE -Key of C Two Octave Range Pocket Travel Saxphone
😊If you are not satisfied within 30 days, you can return it for free.
🍭Fast refund>>100% Money Back Guarantee.

🛒

Payments

>>PayPal & Visa credit cards are available.
✅ Guaranteed! GoogleTrusted Store!
🎁Fantastic Gift For 2023❤️We guarantee that you will definitely learn to play it after purchasing our product😍
🎼This Instrument Will Play A Full Chromatic Scale - Pitched In The Key Of C And Possess A Two Octave Range🎷
The mini saxophone is a small wind instrument, because it is small, it is more convenient to carry. Because the standard Alto Saxophone head is used, and the timbre is like a saxophone, it is called mini saxophone. In recent years, this kind of mini saxophone is more and more popular with music lovers! Before learning or buying a saxophone, it is suggested to buy mini saxophone to learn, so as to better master the playing skills, so as to learn Saxophone later and get involved more easily.
With a real mouthpiece and reeds, easy to play and its tone is close to a real sax

Mini size and lightweight, it is easy and handy to have around to grab and play

Made of solid ABS, with beautiful embossed patterns on the frosted surface

Whether it is self-study, performance, or teaching, it is a suitable instrument

Since easy to learn, wonderful gift idea for any festival or occasion
Use a standard Alto Saxophone head
Due to the use of the standard Alto Saxophone flute, the voice of the mini saxophone is almost the same as that of the saxophone. It's a good choice to experience the voice of saxophone for a small amount of money
More suitable size
The size of this mini saxophone is not big or small. It's more suitable to hold. The ergonomic design makes fingering practice more comfortable
SPECIFICATIONS
Size: 33*3.2cm
Color: Black, White, Purple, Gray, Green
Material: ABS
1 * Mini Pocket Sax

1 * Flannel storage bag

1 * Reed Cover

1 * Fingering Charts
TIPS: If you find it difficult to blow, or can't blow well, you can soak the reed in water before use, dry it a little, align it with the mouthpiece, and install it back.
💰 Money Back Guarantee: If the product is damaged or defective, we will replace it or refund your money within 60 days of normal use.
📩 24/7 Customer Service: Our customer support team is online 24/7 to answer all your questions.
🔒 Secure Payments: We use the most advanced SSL encryption technology to ensure 100% protection of your personal and financial data.
🪐 We work directly with manufacturers around the world to ensure the best quality products in the world. We also have a dedicated quality control department to help us deliver on our promises!
🥇 Our prices are competitive from start to finish. We guarantee that we will spend money on product production and quality control.
If you're not satisfied with your purchase for any reason, our return policy allows you to send back returns-eligible merchandise within 30 days of the date you received the package for an exchange. Simply use the S Return Label within 30 days of receipt to return your item for a free replacement of the same item in a different color or size. If your request for an exchange results in any additional merchandise or shipping costs, and you paid by credit card, your credit card will be charged for those additional costs. Payment methods other than a credit card may result in an order cancellation & a refund may be issued. If the requested exchange is no longer available, including items on the waitlist and advance order, we will issue a refund and not deduct the S Return Label fee.
🌈 Good motivation
After every order, we give you 10% of the profit to Save the Children.
Save the Children started working in this area in 1932 to support the most isolated and neglected rural children in Europe.